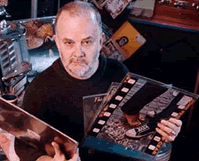 the sound clip you hear:
Top Gear Intro from
sometime in 1970.
with John Peel
his page at Radio Rewind.
with soundclips
the legendary programme broadcast
Radio London
Radio 1 paid tribute to the late
John Peel through a night of
live music at Maida Vale
on 16th December 2004
(aka Big L),
was a station which broadcast
from a ship anchored
outside territorial waters
in the North Sea, off the
coast of Essex from 1964 to 1967
- long before any
local radio stations,
(let alone BBC versions) existed.
John Peel In These Days
the BBC website
still championing after all
this time
The Peelenium took four tracks
taken from each year of the
last century and was introduced
by The Voice, usually on tape
but with a live performance on a
Thursday night from Peel Acres.
Thus stretching from 1900 to
the Millennium, it was broadcast
during the last hundred
shows of 1999
photographs ofmany of the
bands John Peel would
champion over the years
details of every peel session
from 1992 to 2002