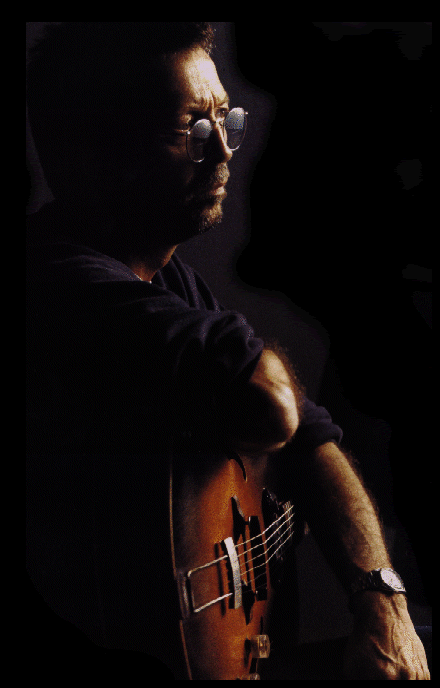 There is not a whole lot that can or will be said, at this point in the proceedings, it's all been said before, in a million ways, the words have been sung in a thousand places on one thousand and one nights, to twenty-five people, to two hundred and fifty thousand people, the number didn't matter then, it doesn't matter now, you played the way you played and we listened, took it in, drank it in, and sang the words back to you in a triumphal echo of joy and celebration, hands raised high, the lighted flames. The then, the now, past, present future, brought together in a single bent note, in a bottle-neck slide, You gave, we took, you gave again, we took, and gave back, still giving, still giving back, after all these years. We still listen, you still play.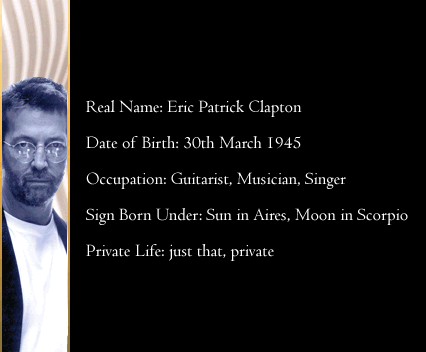 CROSSROADS  
                                    by Robert Johnson
                                    
                                    I went down to the crossroads, fell down on my knees.
                                    I went down to the crossroads, fell down on my knees.
                                    Asked the Lord above for mercy, "Save me if you please."
I went down to
                                    the crossroads, tried to flag a ride.
                                    I went down to the crossroads, tried to flag a ride.
                                    Nobody seemed to know me, everybody passed me by.
I'm going down
                                    to Rosedale, take my rider by my side.
                                    I'm going down to Rosedale, take my rider by my side.
                                    You can still barrelhouse, baby, on the riverside.
You can run, you
                                    can run, tell my friend-boy Willie Brown.
                                    You can run, you can run, tell my friend-boy Willie Brown.
                                    And I'm standing at the crossroads, believe I'm sinking down.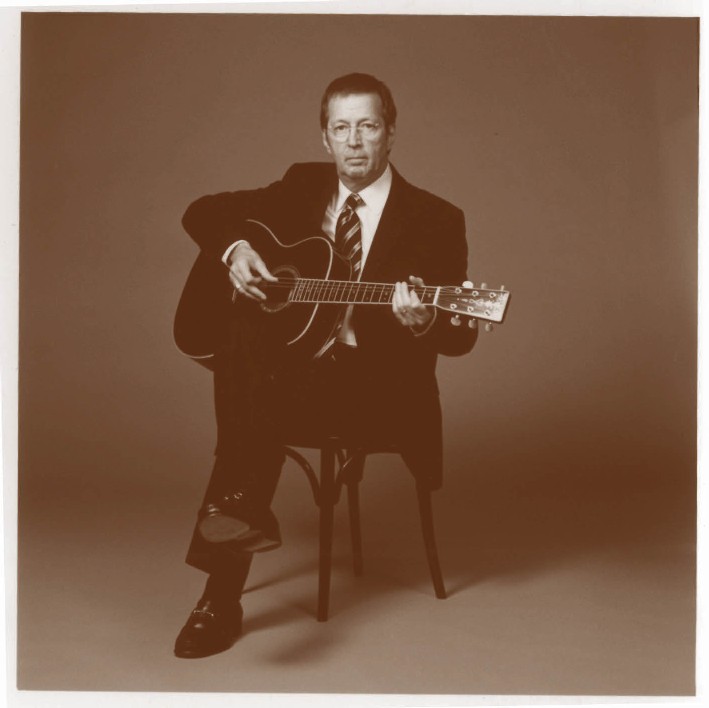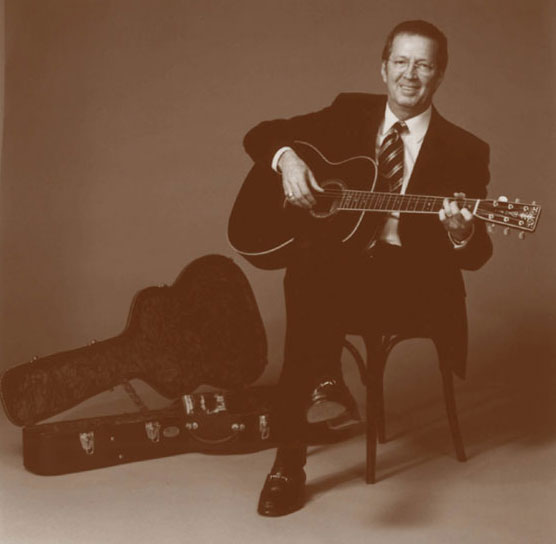 Robert Johnson. 1911 - 1938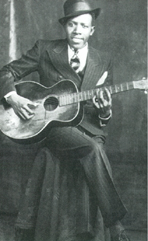 Robert Leroy Johnson was born on 8 May 1911 (sources for this date vary), in Hazlehurst, Mississippi. For a subject upon which it is dangerous to generalize, it hardly strains credulity to suggest that Johnson was the fulcrum upon which post-war Chicago blues turned. The techniques that he had distilled from others' examples, including Charley Patton, Son House and the unrecorded Ike Zinnerman, in turn became the template for influential musicians such as Muddy Waters, Elmore James and those that followed them. Credited by some writers with more originality than was in fact the case, it was as an interpreter that Johnson excelled, raising a simple music form to the level of performance art at a time when others were content to iterate the conventions. He was one of the first of his generation to make creative use of others' recorded efforts, adapting and augmenting their ideas to such extent as to impart originality to the compositions they inspired. Tempering hindsight with perspective, it should be noted that only his first record, "Terraplane Blues", sold in any quantity; even close friends and family remained unaware of his recorded work until decades later, when researchers such as Gayle Dean Wardlow and Mack McCormick contacted them.

In all, Johnson recorded 29 compositions at five sessions held between 23 November 1936 and 20 June 1937; a further "bawdy' song recorded at the engineers" request is as yet unlocated. It has never been established which, if any, of his recordings were specifically created for the studio and what proportion were regularly performed, although associate Johnny Shines attested to the effect that "Come On In My Kitchen" had upon audiences. Similarly, the image of shy, retiring genius has been fabricated out of his habit of turning away from the engineers and singing into the corners of the room, which Ry Cooder identifies as "corner loading", a means of enhancing vocal power. That power and the precision of his guitar playing are evident from the first take of "Kind-hearted Women Blues", which, like "I Believe I'll Dust My Broom" and "Sweet Home Chicago", is performed without bottleneck embellishment. All eight titles from the first session in San Antonio, Texas, exhibit the attenuated rhythm patterns, adapted from a boogie pianist's left-hand "walking basses", that became synonymous with post-war Chicago blues and Jimmy Reed in particular. Several alternate takes survive and reveal how refined Johnson's performances were, only "Come On In My Kitchen" being played at two contrasting tempos. Eight more titles were recorded over two days, including "Walkin Blues", learned from Son House, and "Cross Road Blues", the song an echo of the legend that Johnson had sold his soul to the Devil to achieve his musical skill. "Preachin' Blues" and "If I Had Possession Over Judgement Day" were both impassioned performances that show his ability was consummate. The balance of his repertoire was recorded over a weekend some seven months later in Dallas. These 11 songs run the gamut of emotions, self-pity, tenderness and frank sexual innuendo giving way to representations of demonic possession, paranoia and despair.

Fanciful commentators have taken "Hellhound On My Trail" and "Me And The Devil" to be literal statements rather than the dramatic enactment of feeling expressed in the lyrics. Johnson's ability to project emotion, when combined with the considered way in which he lifted melodies and mannerisms from his contemporaries, gainsay a romantic view of his achievements. Nevertheless, the drama in his music surely reflected the drama in his lifestyle, that of an itinerant with a ready facility to impress his female audience. One such dalliance brought about his end a year after his last session, poisoned by a jealous husband while performing in a jook joint at Three Forks, outside Greenwood, Mississippi. At about that time, Columbia A&R man John Hammond was seeking out Johnson to represent country blues at a concert, entitled "From Spirituals To Swing", that took place at New York's Carnegie Hall on 23 December 1938. Big Bill Broonzy took Johnson's place. Robert Johnson possessed unique abilities, unparalleled among his contemporaries and those that followed him. The importance of his effect on subsequent musical developments cannot be diminished but neither should it be seen in isolation.
Robert Johnson died on 13th August, 1938 in Greenwood Mississippi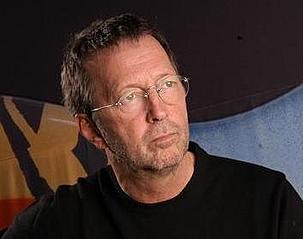 the music you hear:

Milkcow's Calf Blues

from the album

Me and Mr. Johnson

by Eric Clapton

Track Listing

When You Got A Good Friend

Little Queen Of Spades

They're Red Hot

Me And The Devil Blues

Traveling Riverside Blues

Last Fair Deal Gone Down

Stop Breakin' Down Blues

Milkcow's Calf Blues

Kind Hearted Woman Blues

Come On In My Kitchen

If I Had Possession Over

Judgement Day

Love In Vain

32-20 Blues

Hell Hound On My Trail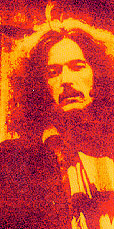 his personal website
an international centre of excellence
for the treatment of alcohol, drugs
and other addictive disorders
audio links to selected tracks
from EC's new album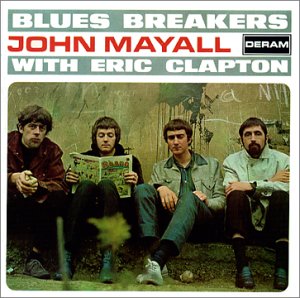 Robert Johnson Links
1911 - 1938
from the great folks at
Delta Haze.com
an epic website chock
full of information
King of The Delta Blues
a really brilliant website
from
a website by
Courtney Danforth and
Adriana Rissetto
at the
University of Virginia.
This web site is designed
to be not just a resource
for material on Robert Johnson,
for there are several of those
on the WWW already.
Instead, this site highlights
the power of Robert Johnson's
words which are still resonant
in contemporary America.

Other Blues Links
Each month, Blues In Britain
reports on the blues scene,
with emphasis on what's
happening here in the UK.
British website
Blues Matters! features the
best (and sometimes worst) of
Old, New, Traditional, and any
other type of Blues
one of six webpages,
created by us,
on the blues, based
on Bill Wyman's incredible
book and television programme
we're attempting to provide a
comprehensive listing of some of
the blues pioneers, both
American and British
the other pages, which you'll find
on the same site, are
Goin' Down To The Crossroads
and
The Blues: A Film Series
an incredibly informative website
from Britain
check the month and day
to see what is going on